Ongoing Offerings
---
Please note: Sittings are currently being held via Zoom while the Center is closed for COVID-19 social distancing. Please visit our calendar of events and click the date you're interested in to view the instructions for joining that session by Zoom. If you're interested in meditation instruction, please email us and we'll set you up with a meditation instructor for a one-on-one call or Zoom meeting.
---
Our center offers a rich array of weekly ongoing offerings free to the public. No prior meditation experience required to attend. Most programs offer meditation instruction upon request. All are welcome.
Questions about visiting our Center? See our FAQ post for answers to many common questions, or email us at the address in the footer if you don't see your answer.
Public Sitting Hours
Our regular mid-week meditation sitting is on Wednesday night 7-7:30pm. Sitting is followed by a tea break, then book study and discussion (schedule permitting).
Our regular Sunday morning meditation practice is 9:30 -11 am, with sitting and walking meditation. We begin with morning chants at 9:30. Chants are always optional; chant books are provided for those who wish to join or read along. If you do not wish to chant, you are welcome to join sitting anytime after 9:45. Sitting is followed by a tea break, then book study and discussion (schedule permitting).
No prior meditation experience is required to attend Wednesday or Sunday sittings. Free meditation instruction is available.
Find how to get to our Shambhala Center here.
Ongoing Book Study Groups
Monday Night Book Study (Ocean of Dharma)
This study group meets via Zoom every other Monday at 7 pm, and will resume on November 23, 2020. We will read together Dzogchen Ponlop Rinpoche's book Mind Beyond Death. During the Covid-19 pandemic we will meet via Zoom. If you are interested in joining the group, please notify Chris Noble-Power via text/phone call (602) 696-9694 and she will provide you the Zoom link. Post Covid-19, the group will re-establish a community meal at a participant's home starting at 6:30 pm. We will continue to offer a Zoom link for those living at a distance or those who prefer Zoom.
It is helpful but not necessary to buy the book. We will likely have an electronic copy to share via Zoom. If you wish to purchase your own copy, it is available at retail vendors or online at Shambhala Publications.
Sunday Book Study
This study group meets on Sundays after Public Sitting, starting at 11:30 am (except where there is a conflicting event). Starting on March 28, 2021, we will be reading Chogyam Trungpa Rinpoche's book Cutting Through Spiritual Materialism. For those joining on Zoom, you may use the same Zoom link as for Public Sitting. We hope to resume meeting in person at the Center when possible.
Introductory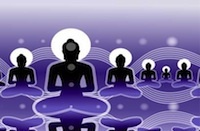 May 3rd
Please join us for our monthly Community Meeting.
Continue »