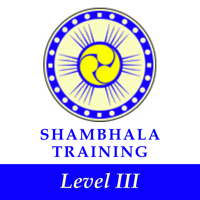 Shambhala Training Level III: Warrior in the World [Online from Shambhala Los Angeles]
with Debra Dysart
Our Way of Shambhala series continues with Level III online, hosted by Shambhala Los Angeles. The online version of this program is offered on three Saturdays.
As Warriors in the World, we develop bravery to step outside the self-created cocoons of habitual patterns and fear.
Prerequisite: Shambhala Training Level II
Recommended: Contentment in Everyday Life
Zoom Access: This course will be offered online via Zoom at the dates and times listed above. After you register for the course, we will send you instructions for joining the course meetings.
Please visit the Shambhala Los Angeles website for more information and to register.