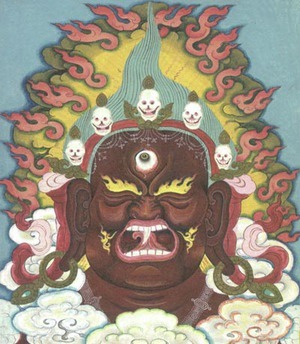 Mamo Chants ONLINE (Southwest Region)
Join us for this year's Mamo Chants in a regional online program hosted by Shambhala Albuquerque. This practice will be offered on Zoom; please see below for the Zoom link.
The year-end Mamo Chant practice is a means of clearing up the environmental, personal and social negativity of the whole year. The practice is an elaborate protector offering, leading up to Shambhala Day on February 12, 2021. Shambhala Day marks the beginning of the new lunar cycle of the Iron Ox. The day before Shambhala Day is considered neutral and is a traditional time to clean and refresh one's home and shrines in preparation for the coming year.
The Mamo Chant invokes feminine protectors during this period, which is said to be fraught with obstacles. It is a good time to practice and tune into the protector principle of awareness and go into the New Year with a fresh and open sacred outlook. More information about this practice and protector principle will be provided at the start of the practice and the text of the practice will be shared on the screen.
This practice is free and open to everyone. You may attend any or all of the dates. All times are in Mountain Standard Time, currently the same as Arizona time.
If you feel inspired to donate to the Phoenix Center or to Albuquerque, the hosting Center, please use the online donation links: Phoenix | Albuquerque.
Join Zoom meeting:
https://us02web.zoom.us/j/81569462770?pwd=MUxjMXV0eDlJR0NOSm83Y1FlVmpNQT09
Meeting ID: 815 6946 2770
Passcode: 339158