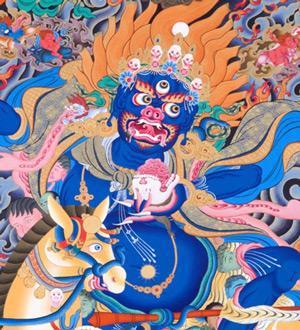 Mamo Chants 2020
Please note new start times for Thursdays, February 13 and 20.
February 24, 2020 is the beginning of a new Tibetan (lunar) year, the year of the Iron Mouse. The Mamo Chants are recited on each of the 10 days prior to the last day of the current Tibetan Year. Please join us at the center for this annual event.

It is said that the last days at the end of the Tibetan year are marked by a propensity to lose one's mindfulness, and as a result we can have accidents and mishaps. Such loses of mindfulness are referred to as attacks by "dons." Because of such losses of mindfulness, we act in ways that are not kind to oneself, to others, or to the environment.

The mamo chant is recited in order to pacify the karmic cause of personal, social, and environmental chaos that accumulates at the year's end. It is an elaborate protector offering. By reciting the chant, we tune into the protector principle of awareness and reconnect with sacred outlook.

This practice is free and open to all; advance registration is not required. You may attend one or more of the sessions. Donations are gratefully accepted.